Allow users to refer candidates to your Opportunity
This article applies to Team and Legacy editions.
User Referrals grant existing users the ability to refer others to your Community or Project. You control which teams can refer, how many referrals they have available, and the email message included in a referral. The Opportunity associated with the Referral dictates which team the referred users end up on. You can then track and give credit to those users who helped expand your program!
To create a User Referral from your Recruiting tool:
Hover over your Opportunity and + icon
Select User Referrals
Complete Source Name, Referral Teams, Referral Interface, and set or create an Email Template

Note that the team(s) selected pertain to which teams can refer others. The destination team(s) associated with the referred accounts is controlled by the Opportunity that the Referral Source facilitates.

Clicking Next

will complete the User Referral Source
For Teams with access to the Referral Source, the "Refer a Friend" link is available in the left-hand menu. Once referred, invitees are sent an email invitation containing a unique, unshareable link that's tied to that email address and one referral will be consumed.
Verifying your referrals
User Management will be where you'll want to verify your referrals. To check on who has been onboarded via Referrals, use this Filter criteria:
Your View criteria will vary based on your needs, but you'll want to at least include the Referer in your View criteria.
Verifying your referrers
To check who has done the referring, use this Filter criteria:
As with your Referrer View criteria, what you want to see will vary based on your needs. We recommend to at least include #Referred on your Viewing criteria.
How to disable sharing
To disable shareable links in your User Referral, set the limit to 49.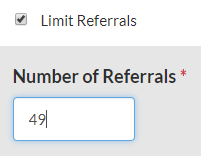 Even if a referred user is blocked by your
Recruitment Limiting Filter
(if you've configured one) or fails the application process, the referral is consumed. If your users have a limited number of referrals, they'll have one less.