This article applies to: All editions
Your data isn't missing, but rather, your criteria may not have data available yet. This is generally caused by your Filter and/or your View not aligning to have criteria to match your needs.
Filters and Views
Adding a Filter to your report (or Advanced View) hones the scope of data you want to see. You're setting criteria you want your data to match. If you'd like to see all results, No Filter may work for you.
Your report's (or Advanced View) View items is the data you'd like to see (similar to spreadsheet columns) regarding your filtered results. If your View items aren't relevant to your Filter, you'll generally see blank results.
For example, if you're building a report with View items for Survey responses but aren't using a proper Filter, then your results will include users regardless of their Survey completions. In this case, you should filter for users who completed the Survey.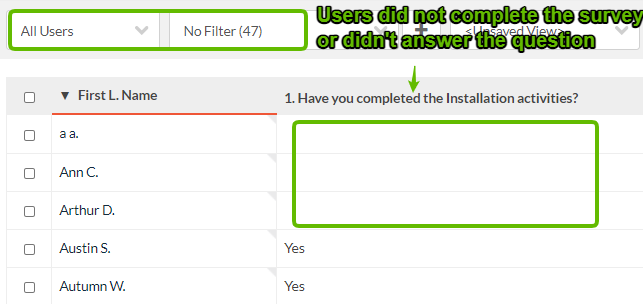 A common Filter would be <Your Survey Complete = Yes>