This article applies to Pro, Team, and Legacy editions.
Feedback Intent refers to the ability to designate a purpose to your Feedback Types, regardless of how you've named them. For example, Centercode's Delta Template refers to product bugs as Issues and enhancement requests as Ideas.
Your company may refer to them as Defects and Suggestions, but Centercode's and your company's intents are identical. This consistent signal allows Ted Adams (the built-in Tester Engagement Director) and Centercode's out-of-the-box Delta Dashboards to provide insights to administrators and active direction to testers.
Intents available for Feedback Types are:
Issues/Bugs (This signal also enables the Blocking Issue feature.)
Ideas/Suggestions
Praise/Delights
Discussions/Forums
Journals/Diary Study
Support/Help
Other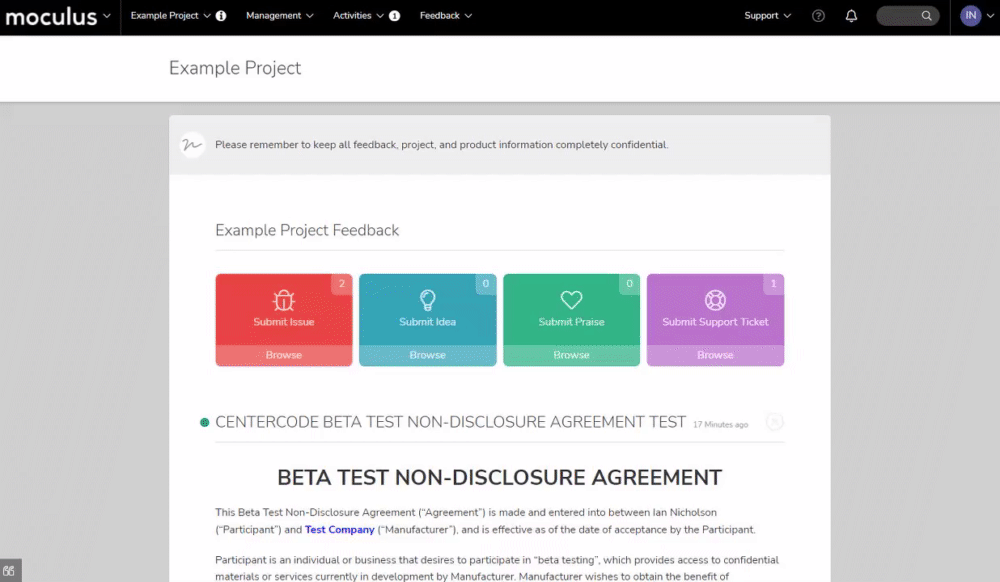 To set or change the Intent designated for your Feedback Type
From your Project Homepage:
Click Management at the top menu

Hover over Project Configuration and click Feedback
Hover over your Feedback Type, click the Modify pencil
Click Statuses
Under Intent, select an appropriate dropdown selection
Click Submit
Repeat steps 3 through 6 until all Feedback Types have Intent