Easily capture the date and time an NDA was signed by a member of your portal and easily make that information available for them to view
This article applies to: Team and Legacy editions.
When running a Customer Validation program, you're often working with unreleased versions of your software and/or hardware and it's imperative to keep it under wraps before you go to market. As such you'll typically have users fill out a Non-Disclosure Agreement (NDA).
When the user signs and submits your Agreement (configured as an Agreement-type Notice in the platform), an exact copy of the agreement is saved to their account as a "snapshot". This means that ALL information on that agreement is saved exactly as submitted. Even Dynamic Tags will "freeze" for the signed document, allowing the Last Login tag to capture the login timestamp immediately preceding the agreement (effectively being the timestamp of their signature). Subsequent logins or changes to their account information will not be reflected on the signed agreement ensuring you have a static, binding NDA, TOS, or other legal document.
What You'll Typically Include
The essential information you typically capture when requesting users sign an NDA is:
First Name
Last Name
Email Address
Date + Time the document was signed
Luckily, Centercode offers dynamic tags for all of these pieces of information. The first 3 on the list above can be found under the "User Account" Data Set when setting the Dynamic Tags in your Content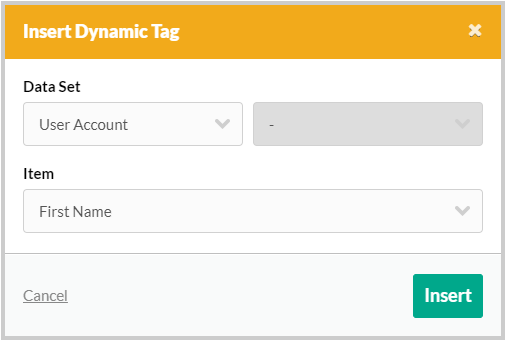 To collect the Date + Time that a document was signed, you'll want to use either "Community Last Login" or "Project Last Login" depending on what layer of the portal your Agreement Notice is configured. These tags can be found under the "Participation" Dynamic Tag Data Set