Setting and understanding your default email settings.
This article applies to All editions.
The following document outlines how to configure your General Community and Project Emails within Centercode.
Community
From the Community Homepage:
In the upper left corner click on Company Logo > Community Configuration > Basic Settings
Under the Basic community settings heading, there is a field for a Community reply-to email address. Below are the locations where this address is used throughout Centercode.
General Email
"Contact Us" Community Help Email
User Invite Email
User Action / Macro Email
Workflow Notification Email
Project Recruitment Email
Project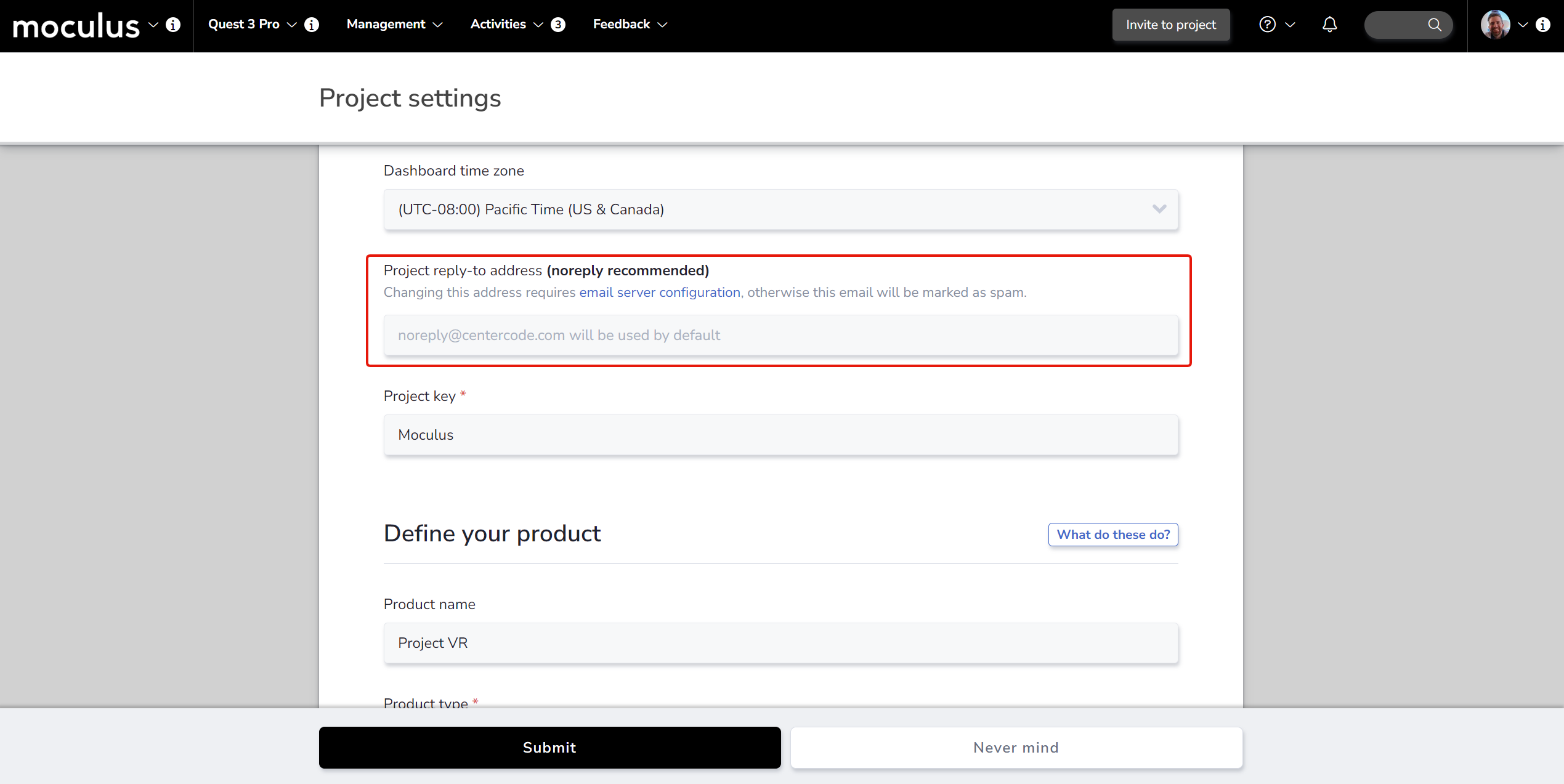 From the Project Homepage:
Click Management > Project Configuration > Project Settings in the top navigation bar.
Under the Fill in your project details heading, there is one optional email address field. Filling this field in with an email address will tell the Centercode system to use this email address in place of the Community reply-to address for that specific Project.
The below locations will be sent from our default email address noreply@centercode.com. (If you need additional assistance with the following locations please contact Centercode support)
Support Email
Lost Password Email
Personal Account Change Email
Contact an Administrator Email
No-Reply Email
Forum Subscription Email
Sign-Up Verification Email
Feedback Comment Email
Notes
Email Templates have an Advanced option to insert a "From Address" that will be used, regardless of settings selected above, for that specific Email Template. There may be additional areas where you can set the "From Address" manually, and in these cases this will overwrite the default and send from the manually entered address instead.
Any "From" address that you commonly use in your system needs to follow SPF rules, seen here, to avoid winding up as spam.