Overview, Resources, My To-Do, Following, and Participation
Within your Projects, you're provided with homepage tabs designed to help your users stay on-top of your evolving customer validation test. The content of these tabs are unique to each user as the system checks their account for activity, available content, and access to display useful information to you users.

Where can I configure my homepage tabs?
You can control which homepage tabs your teams have access to view via the Project's Home Page tool. There, you'll see Tab Access with a team block and each tab: Overview, Resources, To-Do, Following, and Participation. You're also provided with Introduction fields, along with Overview tab settings. Each tab and Overview section provide useful and relevant information to your users.
Overview Tab
The Overview tab is the most customizable of the 5. It allows you control which teams can view your Introduction, Dashboard, and Feedback Overview.
Introduction will be the first thing your users see when they log into your Project (after any Notices, if applicable). This is where you can set your welcome message, as well as any other important information your users need to be aware of. Consider the Introduction to be ever changing, according to the lifecycle of your Project.
Dashboard is high-level overview for your Project. It presents you a view of # of logins, # of users joined, # of Feedback entered, and # of Surveys submitted. You can narrow your results by Total, Last 30 days, Last 7 Days, and Today. You can then click into each category for a further breakdown of the contents. Dashboard is suitable for only Project Managers and Internal Members.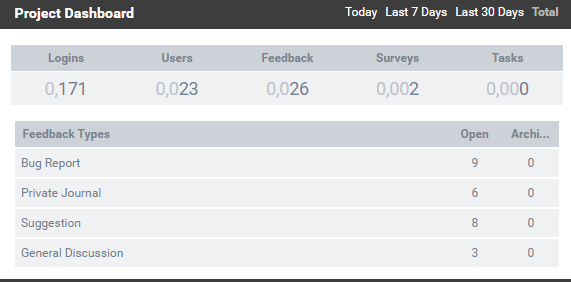 Feedback Overview provides total # of Feedback per Type (Bug Reports, Suggestions, Private Journals, Open Discussions). Users may hover over and click the green + sign to Submit new Feedback.

Overview also provides Project Manager Alerts. These inform you of low user participation and activity, as well as any scheduled Reports set to be distributed.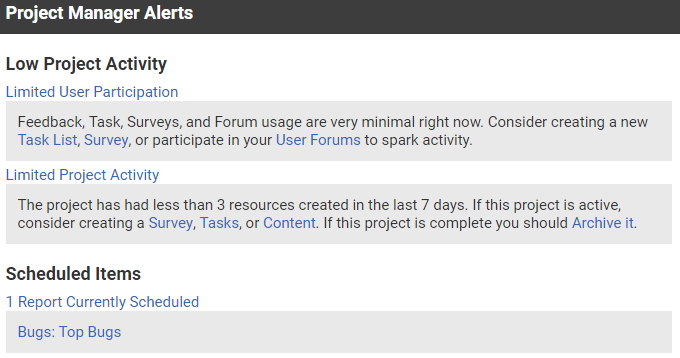 Resources Tab
Resources house Content and Releases that the user account has access to. It can be ordered by publish date or type.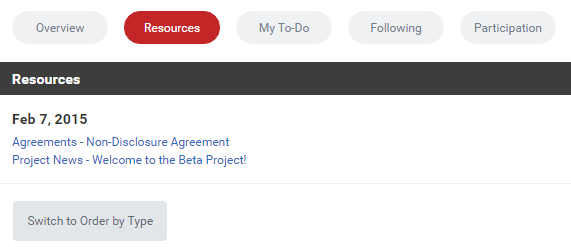 My To-Do Tab
The My To-Do Tab house assigned Tasks, Surveys, and available Feedback Types, depending on user access. This tab also retains user drafts. *If users don't have access to this tab, then they're unable to access their drafts.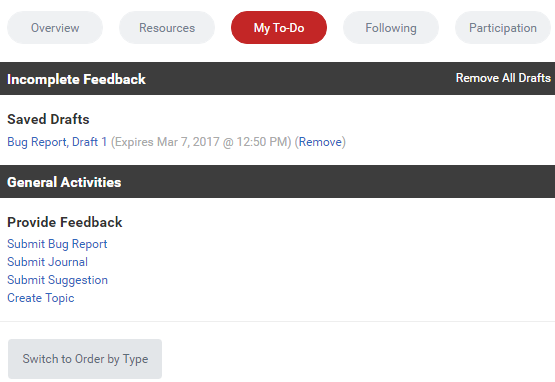 Following Tab
The Following Tab houses all Feedback that you've interacted with (votes, submissions, Predictive Match, editing). The system assumes that if you've interacted with a piece of feedback, that you're interested in it and would like notifications of activity.
The below buttons are available to make managing this list more simple. You can Check All for all boxes, Mark Read, or Stop Following if you're no longer interested. You can also Hide Unchanged, which hides all followed Feedback that doesn't have any new activity. Disable Email stops all Follow Notification emails from being sent to your email.
Option to Mark Read, Stop Following, Disable Email (doesn't apply to selected feedback, but rather all feedback and all follow notifications, Hide Unchanged, and Check All for convenience. Following feedback results in Follow email notifications for any new comment. Following in the system assumes that you're interested in the feedback and want any news. Also Adjust Your Auto-Follow Settings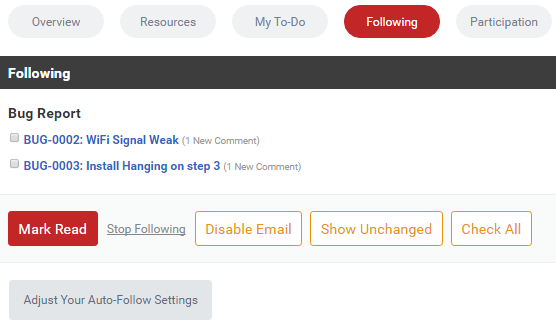 Participation Tab
Functions as an activity log for the user's account. It displays completed Surveys & Tasks, as well as submitted Feedback.
Did this answer your question?